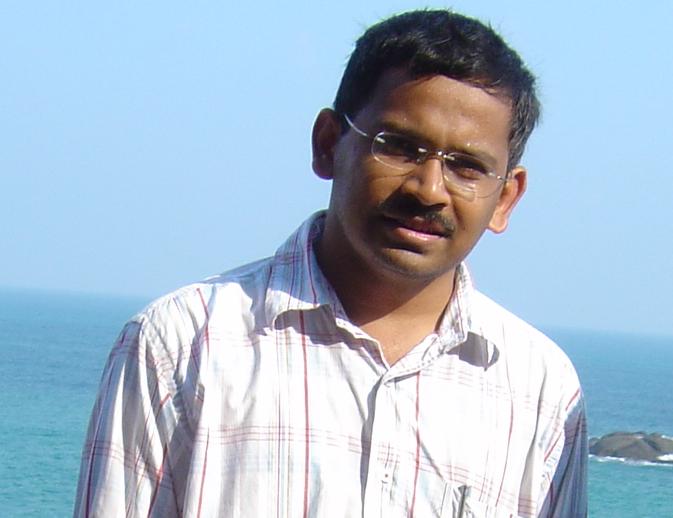 V G Anand
Assistant Professor, Chemistry
E-mail: vg.anand@iiserpune.ac.in


Educational and previous work experience:

1991-94
B.Sc. BHS First Grade College, Bangalore University, Bangalore, India

1994-96
M.Sc. St. Joseph's PG Centre, Bangalore University, Bangalore, India

1996-2002
Ph.D. Indian Institute of Technology Kanpur, India

2002-04
Post-Doctoral Fellow, Kyoto University, Japan

2004-07
Scientist, NIST (Formerly RRL), Trivandrum, India

2007-
Assistant Professor of Chemistry, IISER Pune
Awards and Honors:
JSPS Fellow, Japan

Research interests:

1. Design, Synthesis and Characterization of Porphyrinoids
2. Photo Dynamic Therapy
3. Molecular Recognition
4. Luminescent Materials for Organic Light Emitting Diode

Recent Publications:
J. S. Reddy and V. G. Anand. Planar Meso Pentafluorophenyl Core Modified Isophlorins. J. Am. Chem. Soc., 2008, 130, 3718.

J. S. Reddy and V. G. Anand. p Conjugated Macrocycles From Thiophenes and Benzenes. Chem. Commun, 2008, 1326.

J. S. Reddy, S. Mandal and V. G. Anand. Cyclic Oligofurans: Synthesis of 30p and 40p Expanded Porphyrinoids. Org. Lett., 2006, 8, 5541.