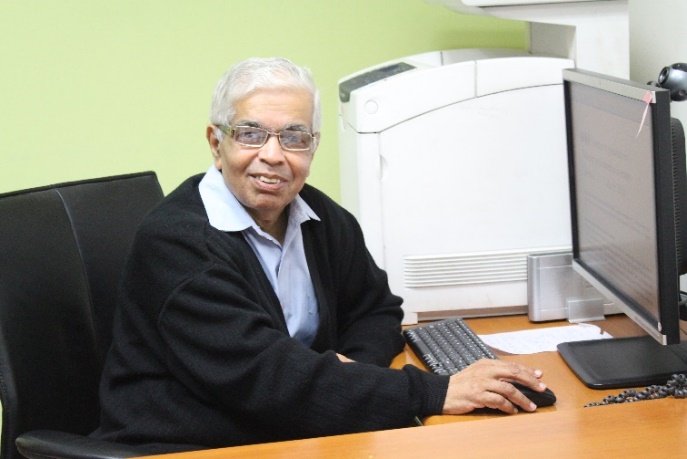 A A Natu
Hon Advisor
E-mail: aa.natu@iiserpune.ac.in
Senior scientist for last 40 years in National chemical laboratory (NCL) and Indian institute for science education in India (IISER) in organic and bio-organic chemistry
Education
1976 Ph.D., National Chemical Laboratory Pune
1981 German Language, Poona University
Post-doctoral research/experience
Institute of Organic Chemistry Technical University, Berlin,. Germany
Institute of Organic Chemistry Bielefeld University, Bielefeld,. Germany
Institute of Biomedical Science/Pharmacia, Upsala, Sweden
Shemyakin Institute of Bioorganic Chemistry, Moscow, USSR
Institute of Molecular Biology, Poland
Teaching Experience:

At Post graduate level (IISER ,University, universities/Institutes in India and Germany))
Courses on Biopolymers ,separation techniques ,organic chemistry ,bio organic chemistry, drug discovery
Research Interests:

Organic chemistry
Bio organic chemistry
Combinatorial chemistry and biology in drug discovery
Highlights:
Awarded Cross order of merit (highest civilian award for FOREIGNERS) by the German president

Researched in Germany and several countries abroad

Involved in planning and execution of IISER Pune project and IISER

Tirupati

of MHRD Govt. of India ( as a task force member)

Served pharmaceutical Industries in India and abroad in various capacities as director, consultant in discovery, process development and management, IPR etc.

Involved in Indo German collaborative activities in Science ,education and technology

Lead Indian chemistry Olympiad teams in Budapest, Cambridge and Georgia and came out with flying colors
Awards and Honors:
Hon advisor and German research ambassador since 2007

Life time achieved award

Labdhi

Research Development and Education (RDE) (

Rs

. 1,00000 ) awarded by

Labdhi

foundation

Gujrat

(India)

Life time achievement award, awarded by a consortium of North Maharashtra University titled Golden Opportunities for latest developments in Chemistry and Technology.(GOLD CJ)

Life time achievement awards,

Surydatta

educational institutes ,VG Joshi trust (

Rs

1,00,000) and

Bapat

millennium institutes

Vocational excellence award by 2 rotary clubs

Lead Indian chemistry Olympiad teams in Budapest, Cambridge and Georgia and came out with flying colors

Best teacher award by PVG group Pune

Fellow of Maharashtra Academy of Science.

Member of board of Directors of pharma companies and PCMC science center

Scientific advisor in the area of education and health of female in rural area and scientific research.

Member of Academic council of Pune University

Ex Member of senate of SV National Institute of Technology Surat.

Ex Member of Academic council of D.Y .

Patil

University Pune

Founder member of Indian Peptide Society and Indian Society of Bio organic chemists.

Member National steering committee for Olympiads in

Homi

Bhabha

center for science education

Visiting scientist Bielefeld University

Adjunct professor at SP Pune University.
Other Activities:
ACTIVELY INVOLVED IN THE UPBRINGING OF THE UNDERPRIVILEGED, TRIBAL, FEMALE AND NORTH EAST STUDENTS TO THE MAINSTREAM OF EDUCATION AND HEALTH THROUGH CAMPS, LECTURES, HANDS ON TRAINING ETC.